Greg's Update:
Fails:
Didn't finish re-doing all of the slides yet for 2.0 of Subscriber to sale
Results:
System.ly Revenue –

Finishing August MRR: $25,038

September MRR will be just over $20 as we ended a few more client relationships in our transition (one of which i believe we'll be back later this year) . But already on Sept 1 we did $5500 in package sales which is a nice way to start the month.

$2000 audit

$3500 evergreen webinar package

With my biggest focus being on re-working the slides and modules/members area for Subscriber To Sale

I decided to do all the slide updates first and then record  back to back.

So I have slides for Modules 1-3 done with the rest of today to finish 4-6 which should be achievable. The updating took longer than I anticipated since I have made some enhancements etc.

I'm going into the office tomorrow/sunday to work on some recording of the modules. The wifey is at a bachelorette party and friends are away for the holiday weekend so I'm getting some work done.

So I'm feeling good about that progress.

I've turned off my fb ads temporarily. I was getting some good click throughs on specific audience but need to work on a few things to increase the conversions so I am going to create some new graphics and try new copy. But I won't get to that this week.
We've made a few more revisions on the creative mockups to the website and waiting to get that return of that back…

Been having some sales calls this week which has resulted in the sale of $5500 in our packages

In bigger news we let go of our customer support person and have actually decided to hire a new person who starts on Tuesday. Pretty excited about this hire as well.

I had a really good call with James Wedmore. We have a lot of mutual friends and have never really truly connected and I wanted to get to know him better and hear what he's up to and we had a nice 60 min call which was valuable as well.

My fantasy draft went well as you know since i slacked messaged you the play by play to get your feedback as I was very unprepared. I think we have a good team so if we win, a bottle of your favorite beverage is gonna be in the mail.

Overall this week has had some lows and highs. AS I mentioned we lost some significant MRR which is a bit scary and my mentors and close friends that know about our transition (and have had similar businesses) all just kept saying, that this is a good thing and a key part of the process and the next day we closed $5500 in sales of our new packages which was cool to start the month.

So I say that because I want to continue to remain calm as a part of this transition as I do know it's the best direction.
Plans:
Finish recording S2S 2.0 Modules and get them loaded into the new members area

Finalize the website updates Get the website into development

4 sales calls

Begin work on sales page and get webinar dates dialed in.

Restart fb ads with new creative
Justin's Update:
Fails:
Results:
LeadFuze software revenue is $30.k MRR.

We lost one of our bigger customers this week. I felt like this wasn't necessarily a good fit, so I can't say I'm too surprised. They had almost 200k contacts they wanted to put on a blacklist (our system just wasn't designed for something like that). Because that caused some problems due to the size, they were doing a duplicate check later, but didn't like that it was causing extra time spent and so it just wasn't a good flow from their side.

I think we can ultimately get them back on when we make some of the changes we have planned though.

Last weekend my power supply in my PC went out, but decided to take that time and upgrade my monitor stand from 3 to 6 monitors. Going to test if this is helpful or hurting productivity. I have each monitor designated for something though. Which helps me from not looking all over the place.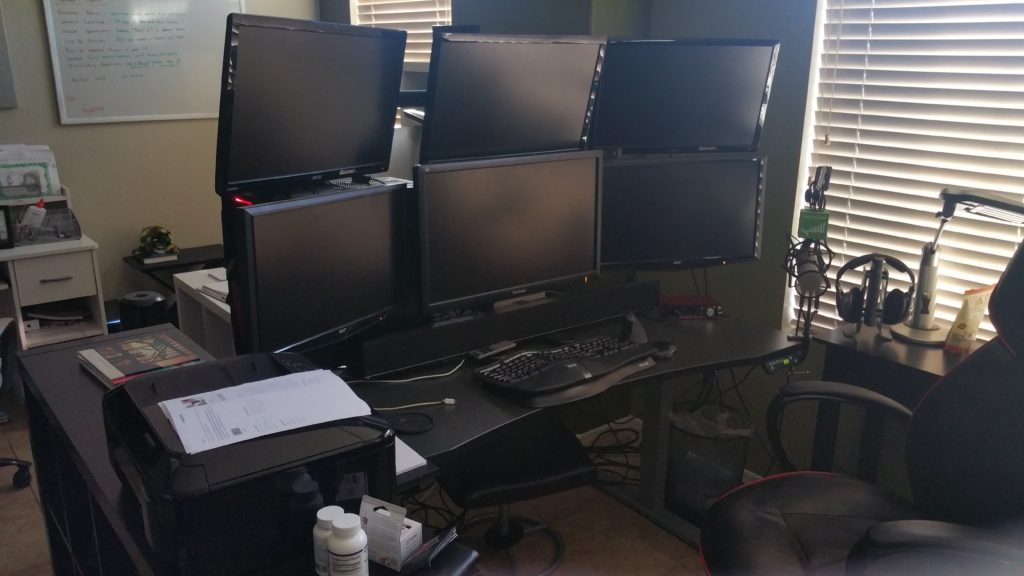 A lot of time on Monday went towards dealing with the investor situation and trying to finalize everything legally. Even when you try to do it simply, it can still complicated. It's tough as well when it isn't like you have other investors already signed off and so there's a precedence in place. So I got everyone into the same email thread and we started hammering things out.

This has been an interesting experience. At the end of the day, the deal is structured where there's a lot of belief in me to do the right thing.

There's also this moral obligation I have to make sure that the investors get their money back many times over. Because of this, I don't think I would ever try raising money on just an idea. I would want to do it just like I did it in this case – Where there's evidence of this being something special… we're generating revenue and have validation. Otherwise, I don't think I could have tried raising any money personally. Just would not want to jeopardize those relationships should the business not work out. In this case though, I feel pretty good about LeadFuze being able to provide a solid return for the investors and this is the only reason I'm even doing it to begin with.

By the end of the day Tuesday we had all 3 investors signed off and we hit my goal of having the funds in the bank by the end of the week.

We have room for one more investor to bring the total raised to $200,000. So we want to have that done over the next few months.

I began the process of looking for office space. I am working with a commercial broker which I've used in the past. The nice thing is, there's no out of pocket expense for using a commercial broker. It gets paid for by the landlord essentially. With Damian flying here towards the middle of the month, I wanted to try and line up some visits for when he's here so we can try and find a location. We'll have several tenant improvements to make which can take months to finalize. I'll go over this in greater detail in a future episode once we start to get closer to this happening.

Wrote another blog post that I'm hoping to get featured into a main outlet. The topic centers around having a plan for when you need to replace key employees. Obviously, this is something we just went through and so it was fresh in my mind.  

Got into a really good rhythm with support tickets. Damian is handling them early in the morning, and then his wife is doing a great job with the mid afternoon support. Then I go in at the end of the day and go through my own queue as well as everyone else's just to make sure everything is handled. We have a few outstanding bugs that we're working on, but outside of those reports we are ending the day having been in contact with everyone which is a good feeling.

I've brought up the last couple of weeks a monster content piece we're working on. It has TONS of cold email examples in it. On Wednesday Damian, Michael and I all got together and recorded a session where Michael moderated and then Damian and I went through each cold email example and gave pro's and con's to them. Our goal is to make this a valuable resource for people that are creating cold emails so they understand the reason why something is good or bad, not just see a template and try to rip it off. If you understand the why, you'll be able to apply it to any situation.  

The guy I've been talking to the last few weeks about coming on and eventually becoming our CTO has been helping me to identify good candidates to join the team. I had 4 developers in the fold and he interviewed 3 of them starting at 10pm his time on Wednesday night. 2 of which I was very excited about due to their Go experience. Go is a newer coding language and it's a little trickier finding experienced developers, but at least we have some options right now. Only one passed his interview and tests though. Of course it is the expensive developer that can only help out part-time right now, but that's ok. It sounds like he'll be able to do part-time what the others could do full-time so we'll see how things go. He'll be starting on Monday and will be focused on the backend. I have a developer currently onboard with a lot of React.js experience and he'll mainly work on more front end tasks. Then Chris will be helping all around and ensuring we stay on track. Now just waiting for everyone to sign NDA's and ensure that whatever code they work on is owned by the company.

Damian and I spent a lot of time forecasting our P&L this week so we can plan ahead accordingly. So much easier to do when you have a small team and limited expenses. As we start to move to this next phase though, we need to really be monitoring the situation closely.
Plans:
Get the development team rocking and rolling with all development tasks. I will be HEAVILY involved here for the foreseeable future. At least until Chris is able to come onboard full-time.

Continue plowing through the support queue.

Now that investor funds are in the bank, I actually want to go to the bank as well to see about opening up a line of credit. We won't have this amount of funds in the bank again for awhile, so figured I'd try to do this now versus trying to do it later when we don't have this now while we're in a good position.

Damian has had our VA building a call list based on previous LeadFuze signups that didn't convert. So he's going to spend a lot of this month contacting everyone and that will start this upcoming week.

Finalize plans for our new prospecting engine. Some super exciting news here.

NFL Fantasy Football drafts!
Resources Mentioned:
Stay Connected:
If you'd like to take your entrepreneurial journey to a whole new level, join fellow "scalers" on the inside by joining the

Zero to Scale Insiders

program. For just $19/mo you get access to Justin and Greg and several other like-minded entrepreneurs who want to help you succeed in your journey!

Be sure to join our free Facebook group

for continuous discussion and let us know your thoughts on today's podcast.  

We'd love to get a

5 star rating on iTunes

from you. We don't plan on asking for this in the episodes themselves since most people are doing other things when they're listening, but we'd love if you left one for us. 🙂