Greg and I had several discussions about what our podcast was going to be about, how we were going to do it, and all the decisions that went into the podcast itself.
Since Greg and I just recently met each other, we didn't know how we were going to work together. We decided to record our initial Skype conversations regarding the podcast to familiarize ourselves with the process while simultaneously hoping we had some audio clips to share before the launch of the podcast.
If you want to get an idea about what the podcast is going to be about, and simultaneously give a glimpse into what it's like trying to plan and launch a podcast.
In these clips, there are shout outs to Brennan Dunn and existing podcasts like Build and Launch, Startups for the Rest of Us, Tropical MBA, Bootstrapped Web, and Gently Mad.
Clip 1
Where we discuss the posting schedule. We go back and forth on the days we're going to upload and I bring up if it even matters.
Clip 2
This is where we discuss more about the format of the podcast and legnth of episodes.
Clip 3
More about our format. We go back and forth here with how to combine weekly behind the scenes updates, Q and A posts, and interview episodes. This is where we brought up the "mastermind'ish" approach we are planning to use for the podcast. We also start talking about episode 0 and some future episode ideas towards the end of this clip.
Clip 4
Greg and I start discussing more of the goals and outcomes for the podcast in this clip. We discuss how we're going to be framing the episodes and then we go back into more debate on episode formats.
Join Our Thunderclap
Help us by joining our "Thunderclap". Thunderclap is a cool service that lets you prepare a message for your friends and fans to share on a specific date/time. So since we are expecting to be live in the iTunes store on April 1st, we setup a Thunderclap to go out on April 2nd and we just need everyone to support us with Twitter or Facebook to help us spread the message.
You can do it by visiting here.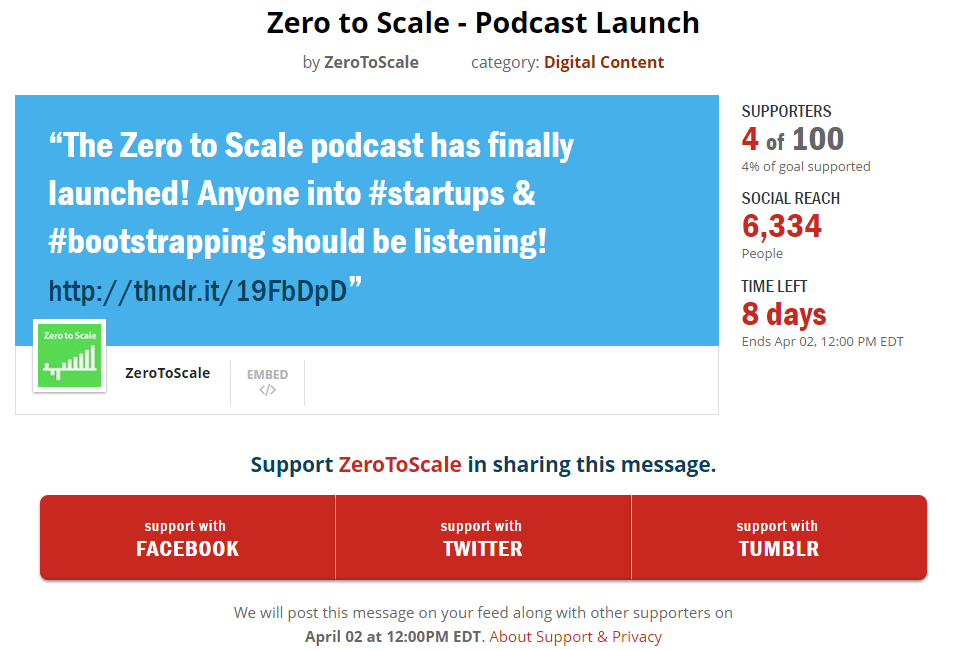 Conclusion
We currently have four actual episodes recorded, with plans for two more next week when Greg and I meet in person here in Phoenix, AZ. What would you like to hear us talk about? Think we are heading in the right direction??