Greg's Update:
Fails:
Results:
System.ly Month to Date Revenue –

Mar One Time: $2000

EMRR: $16,879 (down $2k because we lost our first client)
Passed my Motorcycle Training This Weekend

And have gone on a serious binge of learning everything I can about gear.

Got my helmet, jacket and gloves.

Testing riding two of the bikes I'm considering

Launched our new onboarding campaign / get the SOP documented for it

Finished writing the job description

I had 3 client strategy sessions

I had 2 free consultations/sales calls

2 others in process of being scheduled

I put together a presentation template for our weekly advisory call that started this week

Created the presentation for the first week

Complete 6 project packets (the ones I recorded for already)

I completed the tasks associated to getting the 6 project packets to the place I wanted to get them

I WROTE ONE MOTHA F'IN BLOG POST – GOES LIVE THIS WEEK – WHY YOUR LEAD MAGNET SUCKS
Plans:
I have 2 client strategy sessions

I have scheduled 2 consultations but there might be 1-2 more

Following up with 2 prospects that I've been speaking with already

Complete 2 more video recordings for project packets

This means making the slides and scripting what I want to say

Publish my job listing and share with my communities

Get ONE more blog post published
Justin's Update:
Fails:
Next week we are also working on a few things for me as super admin. It's a super admin sprint, so I'm excited for this.

Basically, I will have a dashboard for all of our done-for-you customers that allows me at a glance to see all of the statistics versus needing to log into each account individually.

This is one of several new things I'll have at my disposal after this next week.
Results:
LeadFuze's revenue for our software right now is $10.7k MRR.

Had to put my designer back to a typical as-needed contractor status. I was just getting bombarded with review needs…I had to plan everything out for him to design… and I just did not have the time to manage that process.

Worked on the demo videos using Camtasia. Found some intro/outro music. Then I created an intro image and a different outro image just to give it a little more of a polished feel. It was fun playing around with the different options and learning some video chops.

The trickiest one I still need to do – which is the home page demo. The rest were more feature walk throughs, but this one had to use more hype language like "imagine" and "now you can…" A few of the videos I created were also for the dashboard which will be part of an onboarding series that walks people through all the various ways to add prospects, to create a series of emails, and then finally setting up the automated schedule.

I am waiting to do the home page video as we were making a big update that allowed us to pull in a LOT more phone numbers. Up until now we had been getting about 10% and so I didn't want the primary demo video to show No Number Found all over the place.

After creating and uploading all the videos, I found out the sound was recorded in mono – meaning it only plays out one speaker. I have no idea why its doing this. I had to basically take the whole mp4 and open it in Adobe Audition – then save it again as a .wav and then import that back into Camtasia for the sound layer and that did the trick. So I had to go back and take down all the videos, re-upload, etc.

We finished a coupon engine which allows me to create a coupon that gives users extra prospects instead of a discount. This is going to be something we use so that we aren't discounting the product, but just adding more value.

I launched the affiliate program and sent out invites to everyone that was on the waiting list. I have a more aggressive strategy that will be factoring in the coming weeks. Part of our plan though is to reward top affiliates with bonus codes that are good for a certain period of time and that will give their referrals added prospects on any of the plans. This is partially why the coupon engine we built was important.

Shaved my head!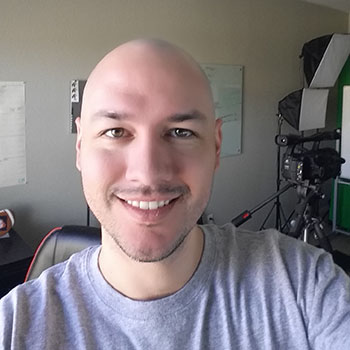 Plans:
Next week we are also working on a few things for me as super admin. It's a super admin sprint, so I'm excited for this.

Basically, I will have a dashboard for all of our done-for-you customers that allows me at a glance to see all of the statistics versus needing to log into each account individually.

This is one of several new things I'll have at my disposal after this next week.

Outreach to some good potential affiliates

Start looking for a SDR – going to look either in the Philippine's or Eastern Europe.

Damian Thompson wants me to go to Eastern Europe because of the culture in the Philippine's is to not challenge people and just accept a "no" so we'll see how it goes.

Plan is to just have them prospect and set appointments.

Going to go with a more traditional SDR > AE > CSM path

Launching a Sales Newsletter at www.SliceOfSales.com
Resources Mentioned:
Stay Connected:
If you'd like to take your entrepreneurial journey to a whole new level, join fellow "scalers" on the inside by joining the

Zero to Scale Insiders

program. For just $19/mo you get access to Justin and Greg and several other like-minded entrepreneurs who want to help you succeed in your journey!

Be sure to join our free Facebook group

for continuous discussion and let us know your thoughts on today's podcast.  

We'd love to get a

5 star rating on iTunes

from you. We don't plan on asking for this in the episodes themselves since most people are doing other things when they're listening, but we'd love if you left one for us. 🙂